In this post, I will be sharing a step-by step tutorial on the making of homemade yogurt using a crock-pot. Trust me on this one, as I grew up in the Soviet Azerbaijan, where the only way to get yogurt was to either make it yourself or buy it homemade at a farmer's market. Sweetened, stiff supermarket yogurt did not exist, and yet homemade plain yogurt was a crucial ingredient in nearly everything and anything.
The boughten supermarket yogurt in America is not yogurt as I know it, especially since most of the time it contains added pectin to prevent the natural accumulation of whey on the surface which could cause the American consumers to think that their yogurt is going bad. As a result, the texture of much of the American yogurt is unnaturally stiff – not at all like nature intended, not to mention that fresh yogurt is actually sweet and mild, and only grows tarter with time. Like with most foods, the only way for me to obtain the yogurt that is as good as I remember it is to make it myself. And it couldn't be easier.
Now to the mechanics of it – not only is making yogurt elementary, it's also half the cost. All you ever need to buy is milk, using the remainder of your own previous batch of yogurt for inoculation. Yogurt makes yogurt. No fancy mail-order cultures need.
Now let's do the simple math:
2 qt of organic yogurt: $8.00 (roughly)
2 qt of organic homemade yogurt: $3.50 (the cost of a half a gallon of organic milk)
How much more persuasion do you need?
Any store-bought yogurt can be used as starter (including flavored yogurts and yogurts with thickeners like pectin) as long as the ingredient list includes the active live culture of lactobacillus bulgaricus and streptococcus thermophilus. It is the activity if these two types of bacteria that turns milk into yogurt. Be sure that at least the words "live cultures" are present on the label. Choose the smallest container you can find as you will only be needing a couple of tablespoons.
The below method uses a crock-pot. If you don't have a crock-pot, check out alternative incubation methods here.
Let's see how it's done:
Note: Some recipes recommend that you sterilize your equipment but I found it to be entirely redundant.
I start with whole milk. Do not use milk that is a starting to turn sour.
A 2-quart crock pot is ideal for 2 quarts of milk.
Add milk to the crock-pot, cover, and turn the dial to low. Allow to heat until the temperature reaches 180 to 190 degrees. This is done to create a sterile medium to be inoculated with the bacteria your "starter" yogurt. Note that die-hard raw-food enthusiasts will tell you to use raw milk and skip this step, merely heating it to 110 (which is the temperature you want your yogurt to be when you inoculate it). I do not recommend skipping this step when using raw milk, unless you are ready for a lifetime of inconsistent results (that is, a batch after batch of thin or completely failed yogurt). It's just not worth it.
I use a digital thermometer with an alarm that beeps when your milk is at the right temperature, but you can also use a regular meat thermometer for this.
Note that the heating time will vary vastly from model to model.
Once your milk reaches 180 degrees (if you catch it at 190, that's perfectly fine too), let it cool for about three hours, or until it cools down to 105-111 degrees (again the time it takes for milk to cool down depends on your model). This is the single most important number you need to remember – go hotter and you fail.
Once my milk has cooled down to 105-111 degrees, I like to skim off the tough, dry skin that has formed on top. This skin is formed by the cream (i.e. the fat) in the non-homogenized milk that I use for my yogurt floating to the top during the heating (while removing fat from food is not usually my way of doing things, I find the chunks of skin in my yogurt downright repulsive). Note that you are likely to not have this experience if you are using standard homogenized milk.
See, I am skimming it off.
There's still some left, so I am going to skim that off as well.
And now it looks like this. A few tiny puddles of fat on the surface are fine – just not the dry skin.
Remove about a cup of warm milk into a separate cup.
Add 2 T of plain yogurt (you are going to have to buy some to begin with, but as long as you never stop making yogurt, as I haven't stopped ever since I began making my own this past summer, you'll never need to buy any more, always using a bit of your own old batch). Take care to mix it in well with a whisk.
Resist the temptation to add more culture (finished yogurt) to your milk. More culture will not lead to thicker yogurt, but, in fact, do the opposite. Yogurt is made of living bacteria which do best multiplying if allowed adequate lebensraum, or living space.
Pour your milk-yogurt mixture back into the crock-pot and stir it thoroughly into the rest of the milk using a whisk to assure that the bacteria in the yogurt colonizes the milk entirely and completely. Be sure to STIR FROM SIDE TO SIDE and UP AND DOWN, and not in a circle like you usually do. This is the way to stir milk whenever any form of cheesemaking is involved, by the way.
Now turn on the light in your oven (but leave the oven off), and place your crock-pot inset in it. Leave overnight. Do not disturb the milk after this point, as doing so will interfere with it setting and give you a thinner product.
Fast-forward to the next day. Running to the oven the following morning to see if your yogurt turned out is so exciting – it's very much like looking inside your stocking on Christmas morning (the experience of joy and anticipation I can only compare to heading out chicken butchering or deer hunting).
There are three things to be aware of at this point:
1. If your yogurt is still thin – DON'T PANIC. PUT IT BACK IN AND CHECK BACK IN A FEW HOURS, AND UP TO 24. The yogurt that failed to set likely just needs more time. At least six to eight hours are needed for yogurt to set, and it could even take longer.
2. The longer the yogurt sits at room temperature, the tarter it will become as the bacteria continues to produce more and more acid. If you like it tart, leave it to incubate for 24 hours.
3. Some whey (i.e. the water in the milk) is likely to pool on top. The longer the yogurt sits, the more whey will seep out, as the yogurt structure is rather unstable and loses water easily. This is perfectly normal and is not a problem – you can stir it back in or pour it off carefully, and you can even strain your yogurt through a kitchen towel to make Greek-style yogurt.
Do you see how incredibly thick this is? Notice the indentation left behind by the spoon. Be sure to give some to your kids at this point – the sweetness of the fresh yogurt is like nothing else.
I then spoon the finished yogurt into a half-gallon jar with the help of a canning funnel to minimize the mess, and keep it in the fridge. Your yogurt will continue to thicken and grow tarter in the fridge.
Homemade yogurt will keep for up to a week.
What to do if your yogurt fails: Do not despair, curse me, or throw it away! It is now a perfect base for making homemade ricotta! Ricotta, you see, is nothing but milk that has been heated to the scalding point and to which acid has been added in the form of either buttermilk, lemon juice, vinegar, or yogurt (which is the traditional way of doing it in Azerbaijan) to cause the whey to separate from the curd. The curd part is then drained of most of the whey through a kitchen towel, muslin cloth, or pantyhose (you got that right). Do not use regular store-bought cheesecloth as it is not dense enough and you will lose too much of the curd.
To do so, place the crock-pot's inset back into its base and turn the dial to high. Heat until the contents look like this: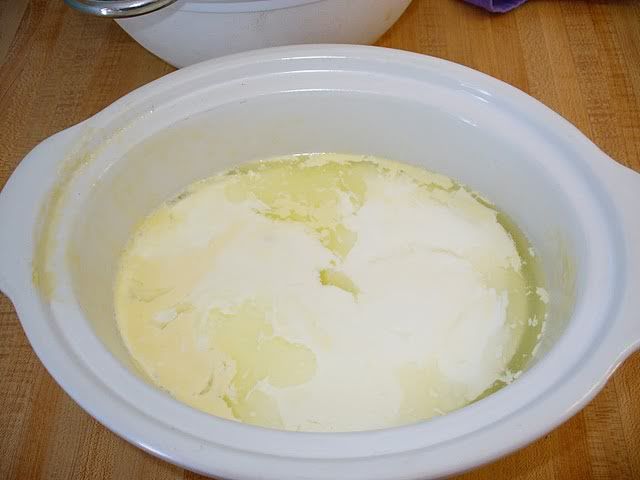 Note how the big lump of white curd is visibly separating from the greenish, watery whey.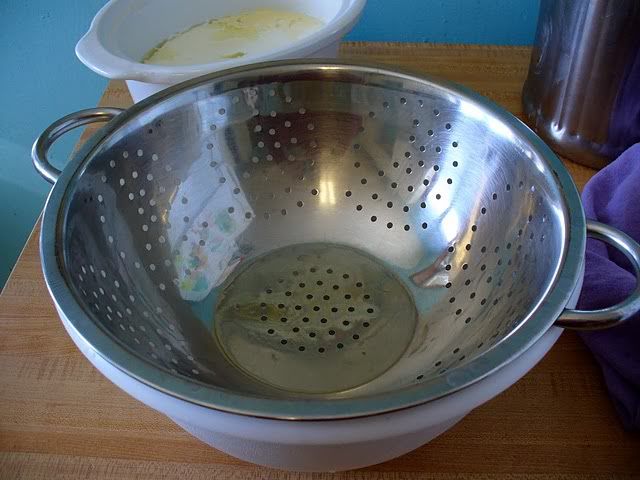 Now set a colander over a bowl,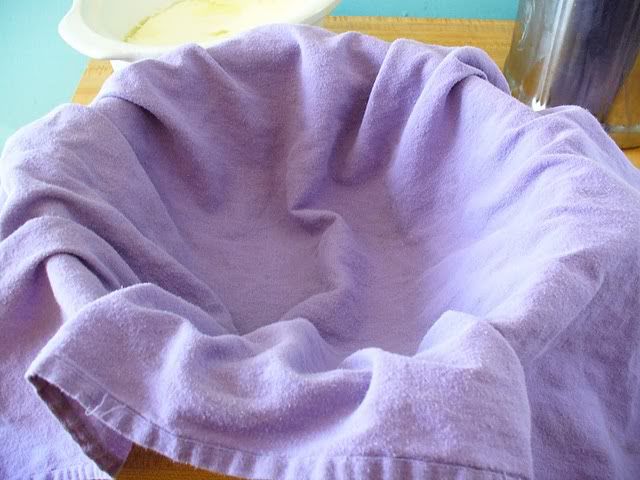 Line the colander with a towel,
Pour the entire contents of the crock-pot in,
And allow to drain for a couple of hours (you may choose to drain it for a longer or shorter period, depending on how dry you like your ricotta).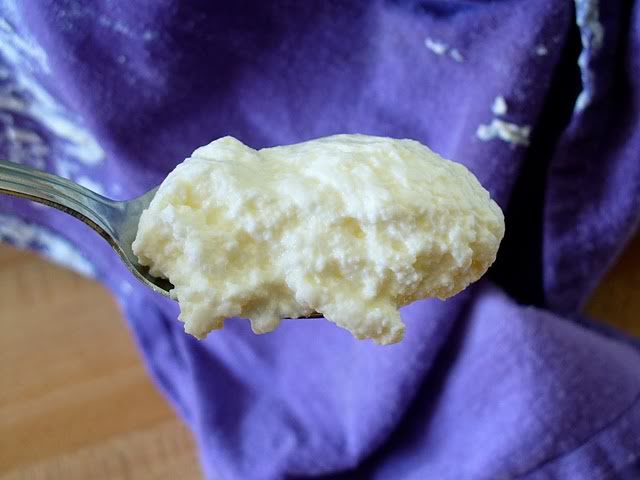 See? As Jacob's dad says, problems are opportunities!
Possible uses: Yogurt is not only for granola! Consider using it in one of the following recipes from my Driftless-Transcaucasian kitchen:
Dovga: Azerbaijani Yogurt Cream Soup
Oladyi: Russian Yogurt Pancakes
Or, try this other yogurt soup recipe from my fellow Azerbaijani-American blogger:
Crock-Pot Yogurt
This recipe calls for 2 quarts (1 half-gallon) of milk and yields nearly 2 quarts of yogurt.
2 quarts milk (whole, 2%, skim, raw, or ultra-pasteurized will all work)
2 tablespoons plain yogurt which lists ACTIVE LIVE CULTURES on the label (either regular or Greek)
You will also need a crock-pot (2-quart capacity is ideal) and a thermometer for this – instant-read, dial, and regular meat thermometers all work, as long as they can read the temperature as low as 105 degrees F.
Heat the milk in the crock-pot until it reaches at least 180 degrees F (depending on your crock-pot model, this could take between two and four hours). Do not skip this step, as it is crucial to create a sterile medium for the yogurt bacteria, especially if you are using raw milk. Omitting this could cause your yogurt to be thin or fail altogether.
Allow the milk to cool down to 105-111 degrees F (110 is ideal).
Remove 1 C of the milk into a separate bowl and stir in the yogurt (this is done to bring the yogurt to the temperature of the milk). Stir the milk-and-yogurt mixture back into the rest of the milk in the crock-pot. Be sure to stir FROM SIDE TO SIDE and UP AND DOWN and NOT in a circle, as it is our goal for the culture to penetrate fully into every bit of the milk. Check the temperature once more with your thermometer. If the temperature is too low, just heat your milk slowly back to 105-111 degrees.
Remove the crock-pot inset from its base and transfer it into your oven. Turn the oven light on while leaving the oven OFF. This will create just enough heat for the yogurt to incubate. Do not disturb the yogurt for at least 6 hours, and up to 24.
Crock-Pot Yogurt Troubleshooting FAQ
My yogurt is still milk.
Either your yogurt wasn't warm enough during the incubation (your house was too cold, your oven light is not powerful enough, or you brought the temperature too far down before adding the starter), or you haven't given it enough time.
The first thing to do is to allow the yogurt to incubate longer, and if it is still milk in a few hours, reheat it gently only until it reaches 105-110 degrees. Incubate the yogurt again, but this time try a different incubation routine.

My yogurt has some yellow-greenish liquid on top.
This is perfectly normal. This liquid is nothing other than whey – the water naturally contained in the milk. Whey always seeps out of yogurt to some degree, and the longer your yogurt sits, the more whey will accumulate on the surface. Pour it off or gently stir it back in.
My yogurt is thicker towards the top and thinner on the bottom.
Yes, this is normal.
I forgot my yogurt for 24 hours.
No problem. It is still perfectly safe to eat.
My yogurt tastes too mild! Can I add something to make it more acidic?
This is entirely normal. In fact, fresh yogurt is quite naturally sweet and mild and only develops its characteristic tang with time due to the rise in the level of the lactic acid excreted by the yogurt bacteria as it feeds on the sugar in milk (lactose). If you want your yogurt tangier right away, allow it to incubate for 24 hours instead of 6.
My yogurt turned thin after I stirred it!
You bet it did. By stirring, you break the structure of the curd, effectively thinning your yogurt. Don't stir it – just spoon it out.
I read that you can add powdered milk to yogurt to make it thicker.
I am scandalized! But yes, you can. You and Google are on your own with this one though.
Can I sweeten this yogurt?
You bet you can. Add a little sweetener (honey, sugar, etc) as you are heating the milk up and proceed as usual. But just so you know, sweetened yogurt is totally Western and I don't get it at all.
Can I make Greek-style yogurt at home?
You better believe it. Greek-style yogurt is nothing other than ordinary yogurt strained to a desired consistency. Just strain your yogurt through a kitchen towel (I don't recommend ordinary cheesecloth because I find it too thin) until it's as thick as you want it to be. Watch it closely though, or it will turn into yogurt cheese.
If you wish to gain a deeper understanding of the scientific processes behind yogurt-making, or if you don't have a crock-pot or a light in your oven and/or would like to try different incubation methods, be sure to read my extraordinarily thorough, highly-educated post here:
Foolproof Homemade Yogurt: Science, Technique, and Troubleshooting
If you are looking for more uses for plain yogurt, be sure to check out the post I put together for the purpose:
How to Cook with Plain Yogurt: Uses, Recipes, Ideas
Still got questions? PLEASE DO NOT POST THEM UNTIL YOU'VE READ THROUGH ALL THE COMMENTS FIRST. Most of the questions have already been answered there, and you may even learn some new tips as an added bonus.